"LIFE IS LIKE A BOX OF CHOCOLATES... YOU NEVER KNOW WHAT YOU'RE GONNA GET!"
7 February, 2012
Paper cakes/torte od papira
The cakes were made for my daughters 6th birthday. The first one was made for her friends at EFL class and the second one was for friends and relations (was it someone from Winnie the Pooh?)..
Template is here. It's in A4 format, but you'll have to change your printer settings to borderless printing.
Torte su napravljene za 6 rođendan moje curke. Prva je za njene prijatelje iz škole stranih jezika, a druga za prijatelje i rodbinu (mislim da je tako govorio neko od prijatelja Winnija Pooha)..
Šablona je ovdje. Šablona je u A4 formatu, samo je potrebno promijeniti format za printanje u borderless/bez ruba.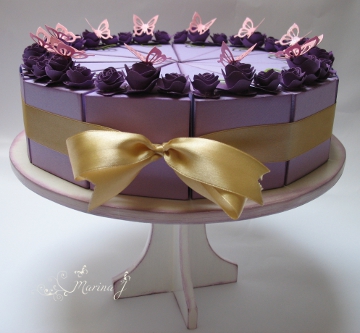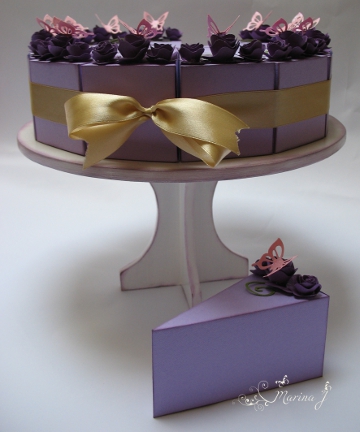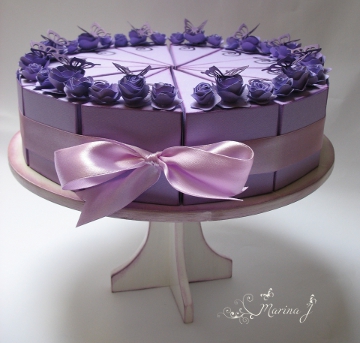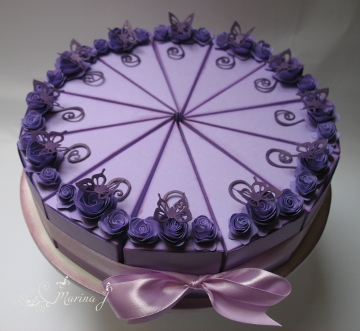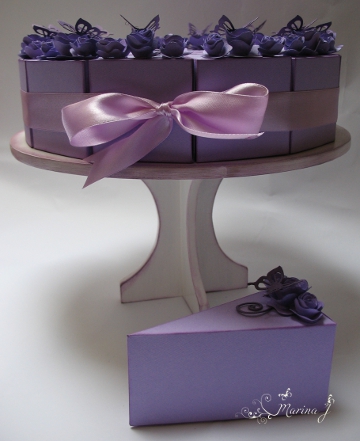 Papers are Fabriano Cartacrea. Flowers are Marianne Design Creatables dies - English Roses, Butterfly is the smaller one of C.C. Designs Cutters Butterflies dies and the swirls are Cuttlebug Alphabet - Curls and Swirls - letter "S".
Papiri su Fabriano Cartacrea. Cvjetići su napravljeni od Marianne Design Creatables - English Roses šablona, leptirić je manja šablona od C.C. Designs Cutters Butterflies, a spirala je slovo "S" od Cuttlebug Alphabet - Curls and Swirls šablona.
31 December, 2011
A li'l bit of everything... part two...
I was playing around decoupaging some wooden boxes... I definitely need more boxes... Tim Holtz Distress Ink works great on edges, gives a great vintage look.
First two were made for my dear friend and my daughters riding teacher/trainer..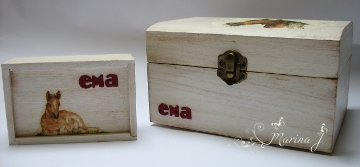 The edges were rubbed with Distress Ink Vintage Photo, works great - only needs a few minutes to dry before applying the final coat of varnish.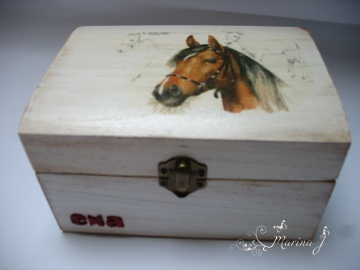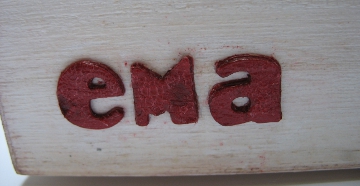 The letters are 300 gms paper in three layers coated with Tim Holtz Distress Crackle Paint. Turned out great..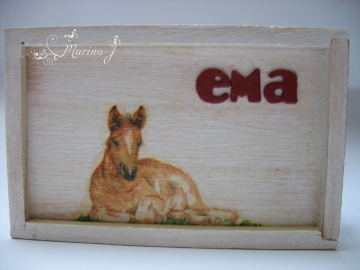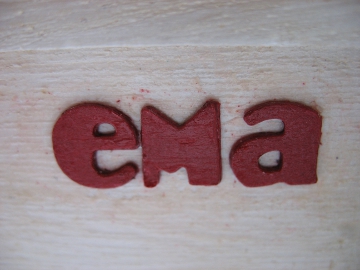 This one was coated with plain Decoupage Varnish. Looks nice..
The last box was made for my daughter..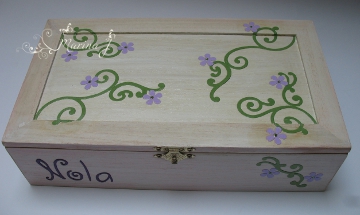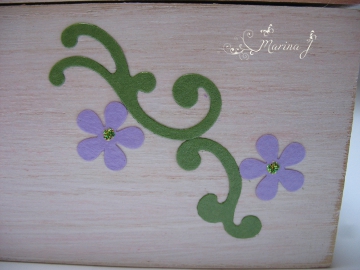 I used Distress Ink Spun Sugar on the whole box for a pinkish tone.. Flourishes are Lifestyle Crafts/Quickutz, Flowers are EKSuccess small Retro Flower Punch and the letters are Cuttlebug Alphabet Curls & Swirls.
29 December, 2011
A li'l bit of everything...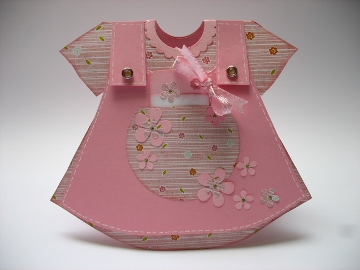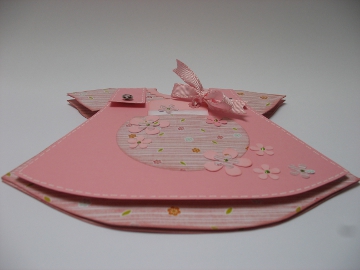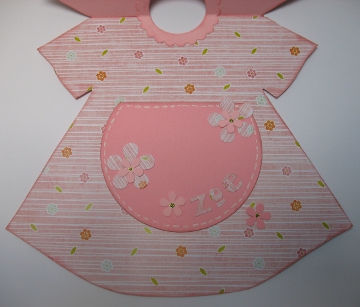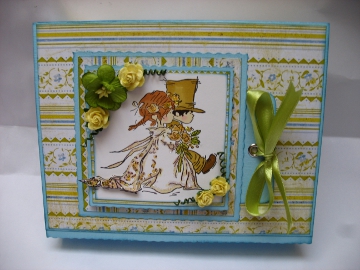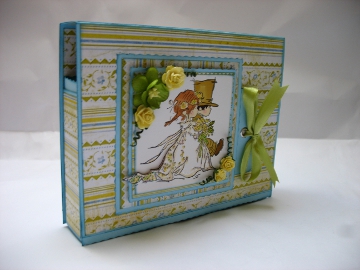 21 December, 2011
Little Red Boxes...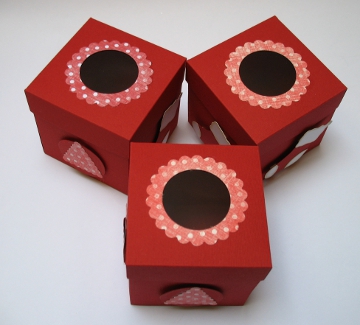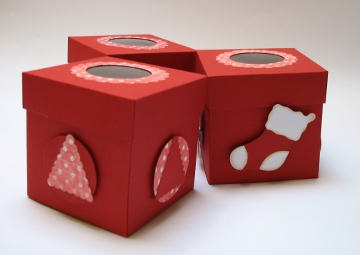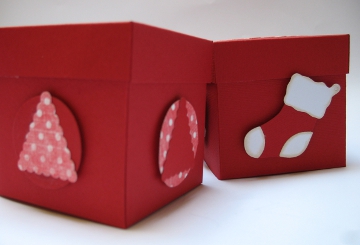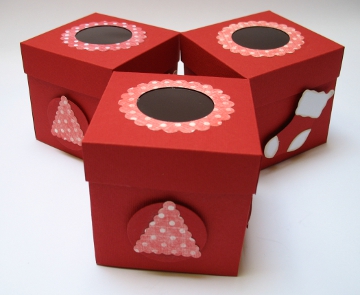 22 October, 2011
Hybrid Scrapbook Mushrooms for Iva
I made this box and matching card for my niece Iva. Tilda in Flower Jeans works perfect with the papers and little wooden Mushrooms. The papers were made by myself using Where Dreams Begin digital kit by Createwings Designs (After Five Designs).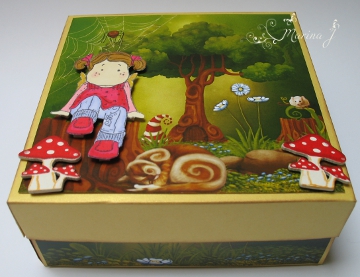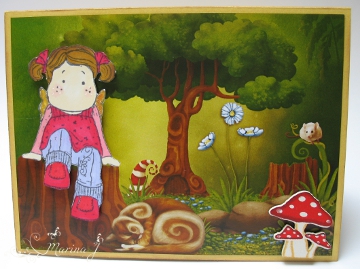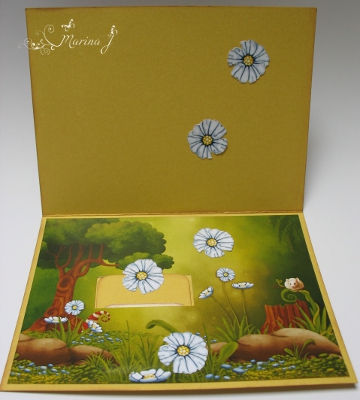 I'm entering Magnolia Stamplovers Fall Challenge, Simon Says - Be Inspired by a Nursery Rhyme or Fairy Tale and Everybody Art Challenge - Pilze/Mushrooms.
29 April, 2011
Love is in the Air..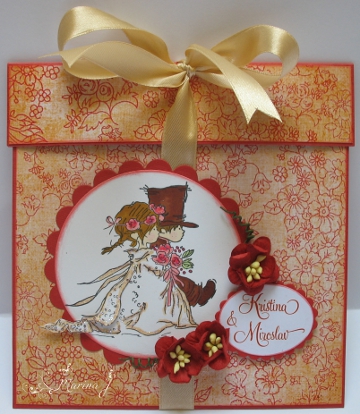 I'm entering Lili of the Valley Challenge - Love is in the Air.
2 March, 2011
Horseshoe, flowers and a butterfly...
Georgeous Wild Orchid Crafts Flowers on a horseshoe... I just couldn't resist to give it a try... this is a very, very lucky horseshoe...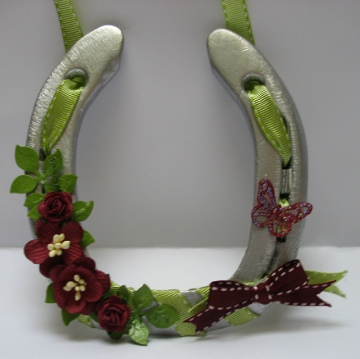 I'm entering Wild Orchid Challenge - Anything Goes.
18 January, 2011
Što je zajedničko đurđici, magnoliji i Marthi Stewart
Nakon Magnolia DooHickey šablone, već drugi dan, stigli su i leptirić od Marthe Stewart i Tim Holtz Distress Crackle Paint. Kupljeni kod Jane i Charlotte, vlasnica Craftie-Charlieja.. Danas je stigla pošiljka od Lili of The Valley. Jupi! Stiglo je 7 predivnih štambilja, ne mogu se odlučiti koji mi je ljepši... Već je oformljena kasica-prasica za novih 7. Stigli su stvarno brzo, za samo tjedan dana, a s obzirom na to da je nova kolekcija u prodaji od prošlog utorka i imale su strašno puno narudžbi (i velikih problema sa sajtom, meni je trebalo dobrih sat i pol da naručim, jer se sajt stalno rušio..).. Cure su se stvarno potrudile. Čak su uspjele odgovarati i na mailove (hvala Lucy!)..
The day after Magnolia DooHickey Die arrived, I found Martha Stewart Monarch Butterfly Punch and Tim Holtz Distress Crackle Paint in my mail box. They were purchased over at Craftie-Charlies, owned by Jane and Charlotte. Today arrived package from Lili of The Valley. Wowzers! I got 7 gorgeous stamps, I can't decide which one is the most beautiful... I've allready found a piggy bank for a new lot of 7. They were delivered in a week, really fast, considering the fact the new collection was launched last Tuesday and they had so many orders (and their site was collapsing all the time, it took me an hour and half to make an order..).. Girls really worked hard on it. They even managed to answer emails (thanks Lucy!)..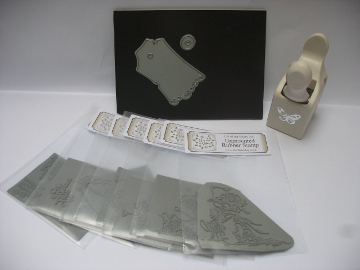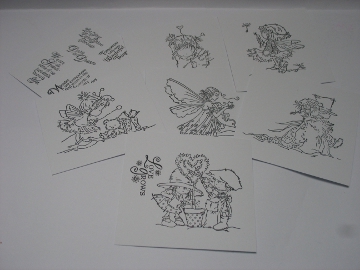 1 January, 2011
My favourite 5 of 2010
Debby at A Scrapjourney has posted her favourite 5 cards for 2010 and has invited everybody to join in..
Here is my fav five: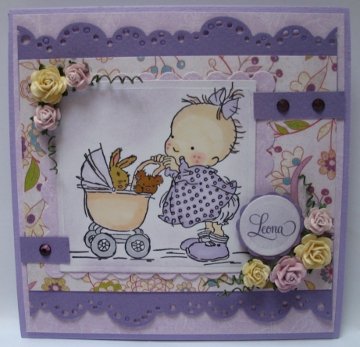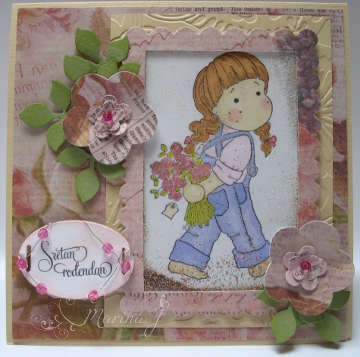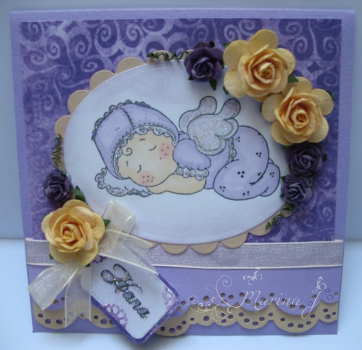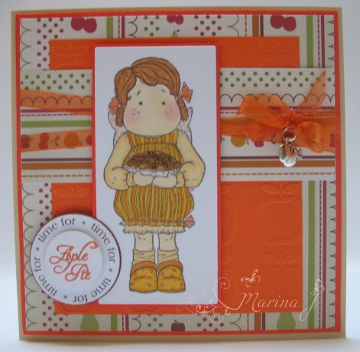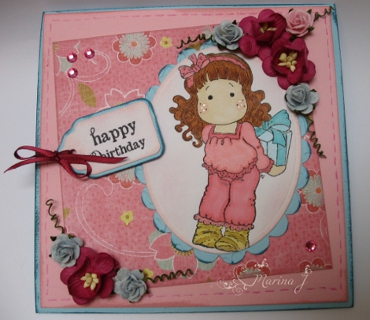 6 October, 2010
"Life Is like a Box of Chocolates... You Never Know What You're Gonna Get!"
... reče Tom Hanks kad je bio Forrest Gump...
... isto je i s čestitkom, nikad ne znaš kakva bude na kraju ispala..
.. prvo je bio QuicKutz Squeeze, pa sam kupovala šablone za njega. Onda sam skužila da postoji Cuttlebug. Pa sam od VM za Božić dobila jednog Zelenka.. Neprocjenjivo. Obožavam ga. Cuttlebuga. A i VM. A za napraviti čestitku treba kakav zgodan štambiljček. Meni su najljepši Magnolia, Tilda i Edwin. Ili Penny Black ježeki, medeki, miceki i ostali.., pa Sugar Nellie, Sarah Kay, Helz Cuppleditch... Ili Digi Stamps od Meljen's Designs, C.C. Designs (All That Scraps), ...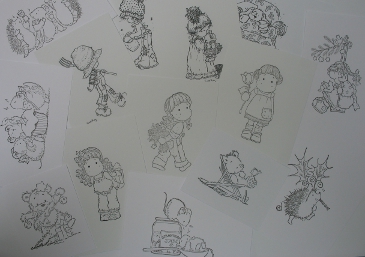 Pa treba i papir. Patterned. Recimo Basic Grey (koji prodaje i Digi papire). Ili Imaginisce, oni imaju dosta papira sa šljokicama. Ili BoBunny, My Mind's Eye, ...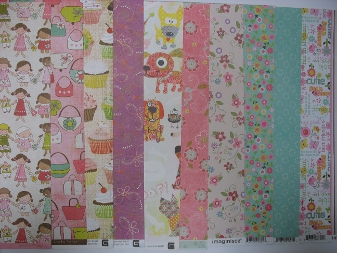 Dakle, izabrani su štambilj i papir. Sneaky Tilda od Magnolie i MME - Pretty Please, Pink Floral. Osnovni papir - podloga za čestitku je Fabriano Cartacrea. Čestitka je veličine 14 x 14 cm. Dakle, treba mi papir veličine 14 x 35 cm (2 x 14 x 14 + 7 cm za preklop).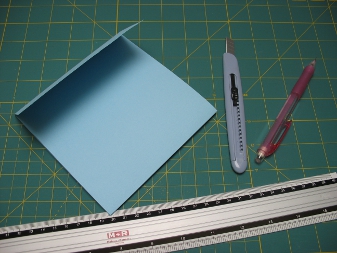 Na preklopu sam izrezala ukrasni rub pomoću Cuttlebuga i Sizzix Tim Holtz Alterations - Ornate šablone.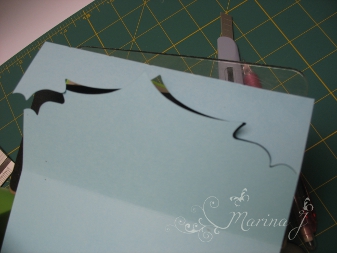 Onda sam izrezala papir s otisnutim štambiljom. Tu sam koristila Spellbinders Nestabilities Classic Ovals LG, najveći oval.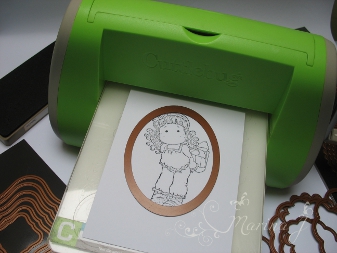 Zatim sam izrezala pozadinu za papir s štabiljom (Nestabilities Classic Scaloped Ovals LG - najveći oval); pa sam ga embosirala da dobijem reljef (Cuttlebug Embossing Folder - Floral Fantasy)...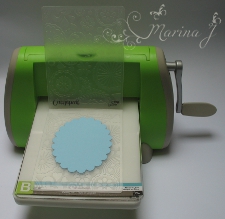 ... rubove sam premazala tintom u boji (Tsukineko VersaMagic Dew Drops)..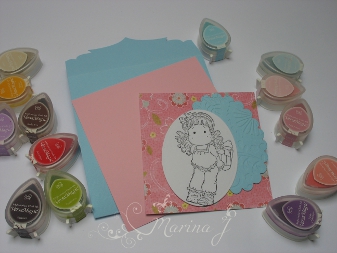 ... pa sam bijeli prostor oko Tilde malo naprašila svjetlucavim sjenilom (obično sjenilo za kapke, krasno se svjetluca..).
I, sad dolaze na red flomasteri. Ne baš obični, ovi se jako lijepo miješaju i nijansiraju. Slično vodenim bojama. Zovu se Touch Twin Markers. Neke sam dobila za Valentinovo, neke za 8. mart, neke za rođendan.. a nadam se da bude koji i pod borom..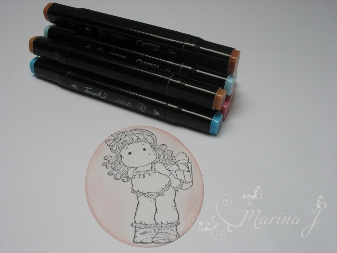 Za Tildu sam koristila Touch Twin Markers: Baby Skin Pink, Blush, Rose Beige, Burnt Orange, Peach, Cosmos, Paste Blue, Frost Blue, Brown Grey, Pastel Green. Malo srebrne Sakura Gelly Roll Pen...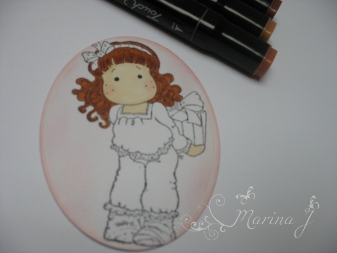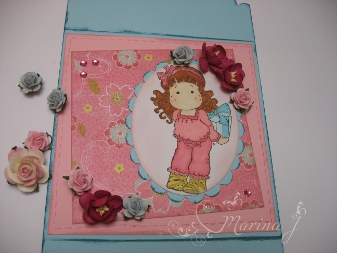 Još samo malo ukrašavanja..
.."happy birthday" sam izrezala pomoću Sizzix Scalloped Tag
..prekrasni papirnati cvjetići su od Wild Orchid Crafts, nekoliko Swarovski kamenčića boje fuksije (Swarovski Flatbacks 2028 ss20, Fuchsia) i mašnica iste boje..
Na kraju sam ispod preklopa zaljepila par "čičaka" (Velcro Dots), da se čestitka može zatvoriti.